Well, its come to that time again after three months into the new year, where awards season has been and gone; that I fondly take a look back at my favourite films from last year. There's been so many great ones in 2015, proving it difficult to narrow it down to a list of only 10. But the films that follow are ones that I really truly loved and possesses that re-watchable factor for me. There have been a lot of Indie films that I had to unfortunately miss out on, so no doubt I'd probably play catch up with those throughout 2016. Without further ado, below are my top 10 that I loved more than any other film I saw from last year:
10. Foxcatcher
First up is the latest effort from Director Bennett Miller (Capote, Moneyball) that focuses on the true life story of a descending tragic relationship between three central characters – Mark and Dave Schultz, two Champion wrestler brothers (played by both Channing Tatum and Mark Ruffalo respectively) and odd, eccentric multi-millionaire John E. du Pont (Steve Carell in a nearly unrecognisable performance) to help 'Team Foxcatcher' train and compete in the 1988 Seoul Olympics. 
This is more than just your average sports drama, its really something else entirely as a truly captivating character study slow burner that pulled and drew me in as a viewer right from the start, with unsettling tension running throughout it's main core. This isn't a film for everyone, as most people I know took an instant dislike to it due to its slow pacing and unfolding character development with little to no wrestling being witnessed. It certainly helps though to be familiar with how Miller works as a director and the kind of subjects he likes to tackle in his movies; mainly the psychological riveting, character driven drama kind.
As much as I thought both Ruffalo and Carell gave brilliant performances, its Tatum in my honest opinion who is the true star of this picture, rising above both of his aforementioned co-stars as a character constantly fighting his own inner demons and who's personal journey was the most interesting for me. Just a disappointing shame then that Tatum was the only one out of the three that never received an Oscar nomination as he really was a diamond in the rough here..
9. John Wick
As we all thought that perhaps his character of Neo in The Matrix films would be the only role Keanu Reeves was ever born to play, and would never get his claws into a better character, along comes John Wick – an absolute badass ex-hitman who you definitely don't want to cross paths and mess around with.
Other actors like Liam Neeson who have moulded themselves as action stars in their later years should definitely take notice and make some notes on the best ways of how to mercilessly take out European mobster scumbags. At just 100 minutes long, this film is a non stop rip-roaring thrill ride of bullets flying everywhere, no holds barred fist fights, explosions, people's necks getting broken etc etc in a hugely fun, entertaining story of pure revenge as our titular character is quickly forced out of retirement to get his own back on the gangsters who killed his beloved dog during a late night break-in to his home.
With a sequel now officially on the way, if you're looking to be entertained on a Friday night then you can't go too wrong with this exhilarating, pumped up action movie with a return to perfect form turn from Reeves. You won't regret it. 
8. AMY
I was so over the moon I managed to catch seeing this upon its initial general release in July. I honestly didn't think I'd be able to as documentaries like this one are very rarely shown at my nearest cinema and if they are, they're shown on a very limited release and are more than likely to get removed before I even have a chance to go and see them. 
If you weren't a very big fan of Amy Winehouse, then this amazing and heartbreaking documentary may just change that for you. Shown to the public's eye in a whole different light, this is an honest account of one of the most gifted solo singers/songwriters to come out of Britain, only to have her life tragically cut way too short just as she was finding the biggest success with her booming career. I was left stunned, devastated and completely gob smacked as soon as the end credits came rolling in, trying my best to fight back the tears. There's a very good reason why this won the Oscar for Best Documentary Feature and for that same reason I implore you to check this out.
Here's a link to my review of the film I written back in July:
7. Mission Impossible: Rogue Nation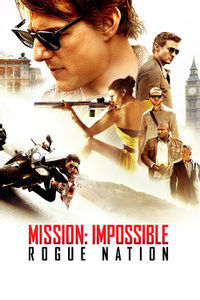 Arguably the most accomplished Mission: Impossible entry in the franchise yet! Re-teaming for a second time with director Christopher McQuarrie, after working together on the brilliant 'Jack Reacher' movie back in 2012, Tom Cruise happily returns as Ethan Hunt to please both fans and critics alike on his most daring and challenging mission. Not only has the IMF been permanently shut down after apparently being seen as too reckless and 'playing by their own rules', but Hunt is now seen as a fugitive by the CIA as he goes all 'rogue' and sets about with his own personal mission, to take down The Syndicate, a rival and sinister counter-organisation who are hell-bent on crushing the IMF for good.
This is the perfect example of a summer Hollywood blockbuster for me. It just has it all – action, comedy, suspense, mystery, twists, big massive explosions and unbelievable stunts. After the not so great second Mission Impossible movie from John Woo, we've had three talented film-makers (JJ Abrams, Brad Bird and now Christopher McQuarrie) to set things straight and bring back the fun and excitement to these sequels, making Mission: Impossible one of the best action franchises ever right now, right up there with the likes of Jason Bourne and James Bond. Its a great time to be a lover of spy espionage film!
I thought it was a pretty ballsy move to choose to have that amazing airplane stunt (pictured above with Cruise clinging on to dear life) take centre stage right at the beginning of the movie when I actually thought all that time it would have been somewhere in the middle of the film, judging by its trailer. If you're an action fan and like Tom Cruise then you really don't want to lose out on not watching this!
There was no way I was going to leave this one out from my top ten of last year, considering how much the first Jurassic Park means to me. How could I forget Jurassic Park being my first ever cinema experience way back in July 1993? I may have been only 6 or 7 years old but the experience of seeing the T-Rex stomping on the big screen for the first time was a wholly unforgettable one. Fast forward 22 years later and we get the fourth entry into the franchise, made 14 years after its dire third film in 2001. This time Jurassic Park has been renamed Jurassic World as it finally becomes the world's fully operational technology controlled dinosaur theme park.
Okay, so the dinosaurs still looked a lot more better in the first film and had more memorable characters i.e. Ian Malcolm and Alan Grant (Jeff Goldblum and Sam Neill) but who cares when the film is this fun!? It has all the ingredients to make a fabulous summer blockbuster hit where you can just leave your brain at the door and just let it take you on an absolute rollercoaster ride. If uncertain, all you need to do is check out the box office takings to see how much of a critical and commercial success this film was during the summer.
Here are some more of my thoughts that delves more deeper into the film:
5. Love & Mercy
I've always been a fan of the music from The Beach Boys so there was absolutely no doubt running through my mind that I wouldn't enjoy this on the account of just how great and upbeat the songs are. But I never expected the story to be told in such a close up, personal way where audiences are treated with a delving perspective into the mental psyche of Brian Wilson, the writer and leader of the band, at two different pivotal points in his life during both the 1960s and 1980s. Having the story told and unravel in this way was incredibly effective, with Wilson being simultaneously played by two accomplished actors (Paul Dano and John Cusack) as a young teenager struggling to write the music while fighting with his own inner demons, and as an adult suffering from mental illness after being placed into care under the watchful eye of Dr. Eugene Landy (a particularly nasty and at times scary performance by Paul Giamatti).
At its heart though, this is primarily a love film, as we see the older Wilson meet and fall in love with Melinda Ledbetter (Elizabeth Banks). As she witnesses the cruel bullying and manipulative hold that Dr. Landy has over Brian, she feels compelled through love to stand up against the ill treatment and tyranny that he's been victimised to for so long.
This film moved me and really tugged at my emotional heartstrings. Hunt it down, buy it and treasure it forever.
4. Brooklyn
The second and last romantic love movie on this list. But that's really the only similarity that this film shares with 'Love & Mercy' as this is simply a beautifully told sentimental tearjerker. The story is also really straightforward as we follow Eilis, (Saoirse Ronan, in a career defining performance) a young woman in the 1950s who takes the biggest step in her life by moving from a small town in Ireland to Brooklyn, with a lifetime opportunity for work; thanks to her older and caring sister wanting to provide her with a better life after contacting a priest in America and sponsoring her. But just as Eilis finds herself settled in with a sales job in a department store, falling in love with an Italian-American and securing herself a bright future; tragedy strikes at home. Its then, when back in her homeland, that she must decide between two countries and two men; making it probably the most difficult choice she has ever had to face.
This film also shares characteristic similarities with 'Carol', another heartbreaking love film that also came out late last year but unfortunately didn't quite make it into my top ten, however its one that I wholeheartedly recommend too. The main reason why I went along to see 'Brooklyn' was because the novel was adapted by Nick Hornby, who I think is an absolute brilliant writer after reading 'High Fidelity'. This may sound like any other romantic semi-tragic movie but trust me, its not. It will really take your breath away with its gorgeous cinematography, realistic characters and funny humour. You'll finish watching it with a beaming smile on your face.
3. Star Wars: The Force Awakens


And here we come to the most anticipated film of 2015. With the release date being pushed back from May to December, the wait for its worldwide release was a really agonising one for many. Three months later and its gone on to becoming one of the highest grossing films of all time, raking in over 2 billion dollars at the box office. As a big Star Wars fan, I really wanted to place this as my number one. But as it stands, I think its a really great film, just not a perfect one that we were all really hoping for. 
The hype for this movie has undoubtedly and obviously unsurprisingly, been the most extraordinary anticipation ever experienced in cinema history. Star Wars means so much to so many fans and their lifes, so much in fact that it makes it all the more daunting of tasks for JJ Abrams to deliver a Star Wars movie that he believes fans want to see, bearing down such a massive weight on both of his shoulders to keep to that promise. The truth of reality is there's a fundamentally core understanding that you just can't please everybody, not everyone is going to respond to the film in the same way, film is indeed subjective after all. However, all you can do to make up for that, is make the best out of everything you have at your disposal by giving it your greatest shot, and that is exactly what Abrams has done, by presenting us with a Star Wars movie that a lot of us have been waiting 15 or so years for in getting everything right; that means stripping away all green screens by shooting on real locations, and making everything from sets to special effects very practical, utilizing very little of CGI during its production processes. And as I write this review after seeing the film three times now, I agree that it is in no way the piece of perfection that some were hoping for but no way is it bad either, far from it in fact as Abrams, along with renowned screenwriter Lawrence Kasdan (whom penned both The Empire Strikes Back and Return of The Jedi), and Kathleen Kennedy (film producer, and now president of Lucasfilm) return back to the original roots and heart of what made Star Wars so beloved in the first place by giving us beautifully told milestone storytelling, and characters both old and new that audiences can really care about again.
If you want to read more what I thought of the movie in longer review form, copy and paste the link below:
2. Whiplash
I love intense films. I think these kind of films make for really great and provocative cinema. I was lucky enough to be able to attend a screening of 'Whiplash' at the 2014 London Film Festival on the 16th October, exactly three months before the film was unleashed to unexpected audiences on general UK release. I was certainly unprepared for the high level of intensity this film has become notorious for, especially for a film set in the music world which I guess is what took many by surprise. Also, calling this film an absolute heart pounding crowd pleaser just doesn't give this movie enough justice. I'm also over the moon that J.K Simmons won the Oscar for his performance as Fletcher, the most respected music professor at a prestigious music academy who takes no crap from anybody, and uses only the most unorthodox methods to drive the best results from his students; mostly involving hurling verbal abuse and throwing objects at their heads when they don't hit the right tempo. An absolutely ferocious and scene chewing performance, Simmons rightfully deserved the golden statue for best supporting actor last year.
If you want to read more words of me praising and gushing on my first experience seeing this film, you can so here:
1. Sicario
Finally we come to my favourite film of 2015. If you thought 'Whiplash' was intense enough, then wait until you check this out. You'll be guaranteed to be sitting on the edge of your seat, your heart rate beating twice as fast during its whole two hours of running time. If it wasn't for this film, 'Whiplash' would surely have been placed as my number one film of the year. But 'Sicario' just totally ramps up and builds on the nail biting suspense and masterful direction so much more when dealing with a more realistic subject matter that has much deeper and dangerous implications. In this case, the on-going war against drugs between the U.S and Mexico. The cinematography by Roger Deakins and the brilliant music score really adds to the building suspense of this film too. All lead performances from Emily Blunt, Josh Brolin and Benicio Del Toro are all fantastic but the film truly belongs to Del Toro, as a Mexican hitman who may not be all who he seems to be as he helps the CIA on a mission to eradicate a drug cartel. 
Like I said previously, I love intense films and this film is as intense of a film that you're ever likely to see from 2015. It's brilliant. I am now officially excited how director Denis Villeneuve will tackle the upcoming Blade Runner 2 released next year.